Live During Expo
COREY BAKON
COREY BAKON began cutting hair in a Brooklyn barber shop in 1990 where he swiftly grew a love for the hair industry. After working in various shops in NYC and Boston, Corey attended school for Barber Styling in 1994 and then went on to open his first hair salon in 1999. Over the course of 30 years, he coached and mentored over 1000 new talent barbers and cosmetologists while expanding his skills into all aspects of hair styling. He became an educator in 2011 he began educating for Paul Mitchell and found a new passion for sharing his knowledge and experience.
He is currently working as an educator for Paul Mitchell , Andis Clippers and doing hair and training for film and Television.
Lectures:
Textured Barbering 101
Live During Expo
Sunday 10:00:00 Room: Palomino-A
Monday 10:00:00 Room: Palomino-A
This course is great for anyone who wants to get detailed information on barbering textured hair, with curl patterns from 3A to 4C.
I cut and style a live model with numerous techniques including: Fading with clippers, Scissor Cutting, Beard Trims, Line Ups, General Maintenance and Styling.
Bring your attention and your questions
Live During Expo
ROB CASS
Spaformation & Salon Prophets, led by CEO Robert Cass, are leading consulting, marketing and training advisors to the spa and salon industry. They bring 50 years of successful spa, salon, hospitality management and development experience as well as an endless commitment and passion towards excellence. Industry leaders across North America have chosen to work with Spaformation and Salon Prophets because of their intimate knowledge and expertise of the spa and salon market. Every business and every leader is different, so their customized approach is ideal for those looking for unique and creative solutions.
Robert Cass travels the continent as a keynote speaker, author and trainer, educating and elevating the standards of today's salons, day, medical, resort, destination and Nordic spa operations. As specialists offering consulting, training and marketing to the spa and salon industry, no project is too large or too small. Spaformation & Salon Prophets are "building business".
Lectures:
The Unlimited Potential of Hairdressing
Live During Expo
Sunday 12:00:00 Room: Palomino-C
Monday 12:00:00 Room: Palomino-C
The magic of being professional hairdresser is the chance to earn as much as you want by being good at what you do. No limitations or restrictions other than the efforts and decisions you make.
This session is perfect for any hairdresser interested in understanding your worth, setting your price and earning your client's loyalty for life.
Join us for a blunt discussion on what the best in the industry have done to enjoy a wonderful and fulfilling, artistic and financial career.
It's How We Make You Feel
Live During Expo
Sunday 09:00:00 Room: Palomino C
Health and beauty service results matter for every guest that comes to the spa. Although some businesses are better than others this is a baseline expectation of your guests. The opportunity for every spa business is to separate and differentiate themselves from the competition by creating an total experience that changes the way people feel after their visit with you.
Do you want to be good, or do you want to be great!
Join us for a blunt look at all the places in your business where greatness will keep guests screaming for more.
The Spa LeaderSHIFT, it's time for change
Live During Expo
Monday 09:00:00 Room: Palomino-C
The shift in the spa world is seismic and real. Your service team and guests have changed forever. The question is…have you?
Join us for a fresh and fun look at how to operate a successful spa in today's evolving and dynamic environment.
We will share the 7 most important things you must know to help you grow yourself, your team and your business.
Live During Expo
ALICIA CHOWEN
Alicia Chowen has worked in the hair industry for 8+ years and has developed her skills and techniques for the perfect styles on any hair-type. She loves helping people embrace their natural curls and texture.
Her vast experience in the Vancouver film industry for the past 6 years has further enhanced her styling abilities, allowing her to continuously work closely with some of well known talent in the entertainment industry including: Jordin Sparks, Tawny Cypress, Christina Milian, Tina Knowles and Michelle Williams – just to name a few.
The Texture Workshops started in 2019 when Alicia saw the need for more knowledge in the hair industry when it comes to curly, coily and textured hair. Since then it has grown year after year. Alicia can't wait to see what the future holds for the workshops
Lectures:
Natural Hairstyling with Alicia Chowen
Live During Expo
Sunday 11:30:00 Room: Palomino-A
Monday 11:30:00 Room: Palomino-A
Alicia Chowen is the founder of The Texture Workshops.
In this lecture she will be doing a live demo of styling curly hair, tips to a popular style – the sleek ponytail – and finishing touches
Don't miss it!
Live During Expo
EMMA HEDLEY
Emma comes from a long line of hairdressers. Her father was the Creative Director for Suki's Salons in Vancouver. Emma's career began as an apprentice at Zinc Salon. She went on to do the Advanced Academy and apprenticeship at Suki's.
She crossed the bridge to North Vancouver and began working at Zazou Salon & Academy in 2017 as a Senior Stylist and has since grown to become a successful Master Stylist and mentor to the up-and-coming new talent. She frequently teaches colour classes in Zazou's Advanced Academy and is a certified Master Colourist with La Biosthetique.
She has since stepped into the role of Salon Manager at one of Zazou's locations and has been focused on the growth and success of her team.
Lectures:
Oscura Umbra Colour Technique
Live During Expo
Sunday 11:30:00 Room: Palomino-B
Monday 11:30:00 Room: Palomino-B
Emma will be demonstrating what she calls the 'oscura umbra' technique – meaning dark shadow.
This is a reverse money piece. It's the latest colour trend that adds depth using deeper tones to frame and contour the face. It's great specifically for fringe, curtain bangs, shags and heavily layered cuts. It creates an overall subtle and edgier look that's low maintenance, yet bold.
It's a great service that's quick to do and an excellent add on to help increase your average service ticket.
Live During Expo
ASHLEY HOOD
Ashley has called Suki's her home for 16 years. She began as an eager Apprentice and is now Suki's Salons Artistic Team Director, Suki's Academy Principal Colour Instructor & Suki's Salons General Manager, and National Artist for Goldwell Canada.
Ashley's passion for creating colour has taken her all over North America and Europe for advanced training, and in 2016 her hard work paid off — she won the L'Oréal Professionnel Color Trophy and represented Canada in the International competition.
Ashley specializes in Lived-in blond balayage and Pre-lighten and Tone and is one of the most sought-after Blond Specialists in Vancouver, Canada.
Lectures:
Seamless Blond Balayage and Beyond
Live During Expo
Sunday 16:00:00 Room: Palomino-A
Monday 14:30:00 Room: Palomino-B
Learn what's new in blond balayage " hand-painted highlight" trends while paying homage to traditional French balayage techniques.
Blonding strategies for the most impactful lived in colour. A focus on the most sought after balayage trends straight from the runway.
Along with time-saving placements to increase income, precisely placed money pieces, and how to capture images for your social media.
Live During Expo
MARY KIARIE
Since her move from Toronto to Vancouver, Mary has taken the wig industry by storm. She specializes in making and installing natural looking wigs that her clients love.
Mary is a natural in styling African American hair, which includes conrows, Metowi Method microlinks and sleek ponytails. She has also had the pleasure of learning her skills from celebrity hairstylists in the United States.
When she is not working full time in her studio, you can find her teaching students how to braid at JCI Insitue in Vancouver, as well as teaching wig installs and conrows at various salons, all through The Texture Workshops.
Mary has been featured on Etalk Canada and Your Morning and has worked on set of films with actresses such as Monique Coleman and LisaRaye McCoy.
Lectures:
Wig Application with Mary Kiarie
Live During Expo
Sunday 14:30:00 Room: Palomino-A
Monday 14:30:00 Room: Palomino-A
In this lecture she will be doing a live demo of a common wig application technique.
Showing wig preparation, application and finishing touches for a flawless wig!
Be there!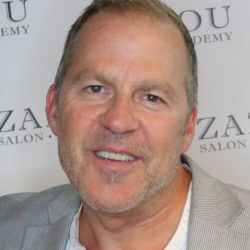 Live During Expo
BRUCE PETERS and JANINE CANNON
Bruce Peters has been the owner and operator of several award winning locations of Zazou Salon and Academy located on Vancouver's North Shore for over 30 years. Zazou's mission is to be community focused and globally minded. Bruce is a European trained hair stylist with an appreciation for the rich tapestry of the salon culture and he's excited to help provide education to elevate continue to help elevate this beautiful industry. Bruce will present alongside Janine Cannon, the Brand and Business Development Lead for Zazou. With a background in business and marketing, Janine has worked in this industry for over 15 years with a focus on the growth of the business and the team through hiring and marketing campaigns.
Both Bruce and Janine believe in growing people and providing an exceptional experience both for their external guests and internal guest…the team! Their ultimate goal is to help elevate the industry and the communities they work in. By sharing best practices they hope to continue to help others grow and be the most successful version of themselves. Zazou has been honourably mentioned for Best Employer, Service Excellence and Sustainability.
Lectures:
Tools and Strategies for Recruitment and Staff Retention
Live During Expo
Sunday 13:00:00 Room: Palomino-B
Monday 10:00:00 Room: Palomino-C
Bruce and Janine will be presenting tools and strategies for Recruitment and Staff Retention.
This has been a hot topic in our industry these last few years and they anticipate this becoming more of a struggle in the coming years.
They wish to share their successes and failures and what they have done to ensure they have a happy, fun and supportive team environment that both attracts new talent and retains them.
Live During Expo
KELSEY STOREY
Kelsey began her hairstyling career in 2007, working as an Apprentice with Zazou Salon & Academy and completing the Apprenticeship Program. She was born into a family of inspiring hairstylists and knew from a young age that this would be her path. With over 16 years of experience, Kelsey has never stopped learning and growing. Kelsey has been recognized and awarded for Best New Talent Stylist for her creative work in the National Contessa Hairstyling Awards. She has been the Creative Lead for Zazou's trend collection and has participated in backstage work for fashion shows such as Paris Fashion Week. As a high-performing hairstylist, Kelsey has had opportunities to attend education in Italy and France to further hone her skillset and to bring this back to the team and her guest experience.
Kelsey has a true passion for education. Not only does she demonstrate this through her own continued learning, but also by sharing her knowledge with the future talent of our industry. She stepped into the role of the Head of Education at Zazou Salon & Academy over 3 years ago and hasn't looked back. She has developed the program to what it is today, having successfully certified over fifteen hairstylists from our program with over ten currently under her tutelage.
Lectures:
Shag Haircut Technique - Let's break the rules!
Live During Expo
Sunday 10:00:00 Room: Palomino-B
Monday 10:00:00 Room: Palomino-B
Kelsey's hair philosophy focuses on perfecting the fundamentals of hairstyling techniques. Kelsey believes by doing so, hairstylists can adapt to ever-changing trends of our industry. Having a clear understanding of the fundamentals gives the opportunity to think outside the box, be creative and break the rules.
Kelsey will be focusing on the importance of consultation and how she applies her hair philosophy and passion for hairstyling to her services on a daily basis. She will demonstrate this by showcasing the fundamentals of a shag haircut and how to take it to the next level, while ensuring her guest feels listened to and valued.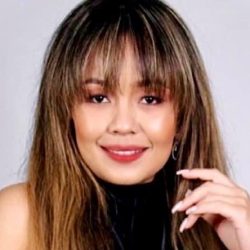 Live During Expo
CRISTINA TOCAJ
Cristina has a degree in Civil Engineering back in Philippines and currently a Professional Hairstylist at Sukis Salon in Vancouver working at downtown location specializing in precision cutting, styling and updo. Creative, personable and passionate about her craft, Cristina Tocaj has established herself as a successful stylist in Vancouver over the past 6 years.
She is Sasson trained and she has an International Certificate from Georgy Kyot for styling and updo
Cristina's work is thoughtfully crafted and personally tailored to every client, making every visit to her chair an experience to look forward to.
Cristina is not only an exciting hairstylist, but she is also an educator at Suki's, teaching the next generation of stylists to be their very best. Cristina believes if you have great hair, you can conquer the world.
Lectures:
Transforming Sleek Ponytail into Stylish Elegant look.
Live During Expo
Sunday 13:00:00 Room: Palomino-A
Monday 13:00:00 Room: Palomino-A
hristina will teach you how to create classic, unique, elegant, stylish ponytail ideal for special occasions like weddings, graduations, celebrations, seasonal events or the red carpet!
She will show you how to analyze hair texture, the proper use of their tools, proper use of styling products, how to prepare and set the hair, how to check for balance and symmetry, and will leave understanding shape and suitability.
Cristina will also cover techniques in backcombing, hair pinning and detailing.
Live During Expo
NAHID ZAVASHI
Nahid completed the Advanced Academy Program at Zazou Salon and Academy and has grown into a successful Senior Stylist. She is now the Education Coordinator for the Academy and is a key educator for current and future talent. Nahid is also a mentor, working closely with personal assistants in their growth. She has been a key contributor to the enhancement of the education program.
Nahid has continued her advanced education by completing courses such as Expert Colourist with La Biosthetique. She has been a significant part of the Creative Team with her work nominated as a semi-finalist for the National Contessa Hairdressing Awards for New Talent Stylist. Nahid also works with the CDC and applies her scientific thinking into her hairstyling techniques. She specializes in Bridal Event Styling and particularly enjoys teaching this class when educating.
Lectures:
Styling Techniques - Simple but Glam
Live During Expo
Sunday 14:30:00 Room: Palomino-B
Monday 13:00:00 Room: Palomino-B
Nahid will be demonstrating simple techniques to create a glamourous and intricate look but is easy to achieve with minimal supplies within an hour.
Nahid will be breaking down the right consultation questions.
She will also explain how best to break down an inspiration photo and map out the steps, product selection and preparation to achieve a beautiful style for any special occasion.