Beyond Ordinary Facials: Embrace the Wonders of LED Light Treatments
Whether you're a professional esthetician seeking to enhance your facial protocols or an at-home user aiming to address skin concerns, Celluma LED light therapy holds the key to healthier and revitalized skin. However, it's crucial to invest in a quality LED light therapy device that aligns with your specific needs and expectations. In this blog, we'll explore the benefits of Celluma LED Light Therapy, suitable device options for professionals and at-home users, and how this innovative treatment can effectively combat acne, wrinkles, and inflammation.
For estheticians, meeting your clients' expectations for healthy and radiant skin is paramount. If you've been contemplating incorporating LED light therapy into your facial protocols but aren't sure where to begin, Celluma LED Light Therapy is here to provide guidance and support.
Similarly, if you're an at-home user experiencing acne breakouts or confronting the fine lines and wrinkles that come with aging skin, Celluma LED light therapy is a reliable solution that can help you achieve your skincare goals.
When choosing an LED light therapy device, professionals can opt for the Celluma PRO or Celluma SKIN, both highly effective in treating acne, wrinkles, aging skin, and pain. The Celluma PRO is FDA-cleared, portable, and versatile, offering outstanding performance at an affordable price. For at-home users, the Celluma SERIES provides various options to address specific conditions, ensuring thorough research to select an FDA-cleared device supported by robust science.
After purchasing the device, professionals can customize signature facials using their preferred skincare product lines, adjusting seasonally for added appeal.
LED light therapy works by targeting and eliminating acne-causing bacteria deep within the skin, offering a natural and chemical-free alternative to harsh treatments.
Blue light, in combination with red light therapy, emits specific wavelengths that trigger an all-natural effect, reducing inflammation and improving skin tone and texture.
Studies show that the synergy of blue and red light is effective for mild to moderate inflammatory acne vulgaris. Celluma's blue light therapy excels in achieving faster and better results, thanks to its unique flexibility and ability to mold closely to the treatment area, allowing skin cells to absorb more light energy.
This results in a reduction of acne lesions and improved skin appearance in just a few weeks, with outcomes varying based on acne severity and treatment adherence. Seeking advice from a skincare professional is recommended for optimal results.
Wrinkles and aging of the skin are frequently linked to insufficient collagen production, swelling, and decreased blood flow. Collagen, a crucial structural component in the body, is crucial for preserving a youthful look. LED therapy, specifically using red light and the near infrared spectrum, stimulates fibroblasts, resulting in increased production of collagen and elastin. In addition to improving the appearance of the skin, the treatment also provides relief from joint pain and promotes overall wellness.
Estheticians can create personalized facials by combining Celluma LED light therapy with other skincare treatments. These sessions could include several steps: cleaning, exfoliating, extracting if necessary, applying toner, and finishing with a 30-minute session of Celluma LED light therapy.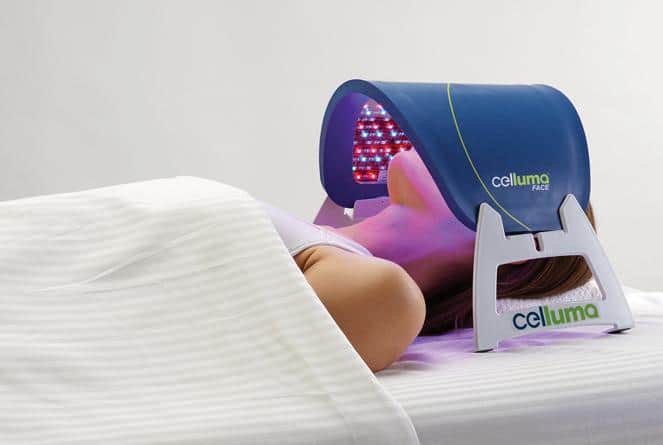 The specific light treatment program utilized is determined by the skin ailment being treated, such as treating acne with the Acne Program, or reducing wrinkles/redness with the Wrinkles/Red Light Program.
After the facial, appropriate skincare products are applied, along with sun protection.
LED Light Therapy devices offered by Celluma provides an extraordinary method for achieving healthy skin.
Have questions or need more information?
You are invited to ➡️ read the full article on the Celluma Light Therapy blog!
ESI Spa-Show Blog Team
P.S. Come to ESI's 2023 MONTREAL CONFERENCE annual conference that will take place on OCTOBER 15 &16, 2023. Add it to your "must do" list and mark your agenda – ESI Beauty Expo Montreal is the largest beauty expo that reunites professionals and suppliers from the entire beauty industry and offering you world-class education to increase your knowledge, your skills and grow your revenues!