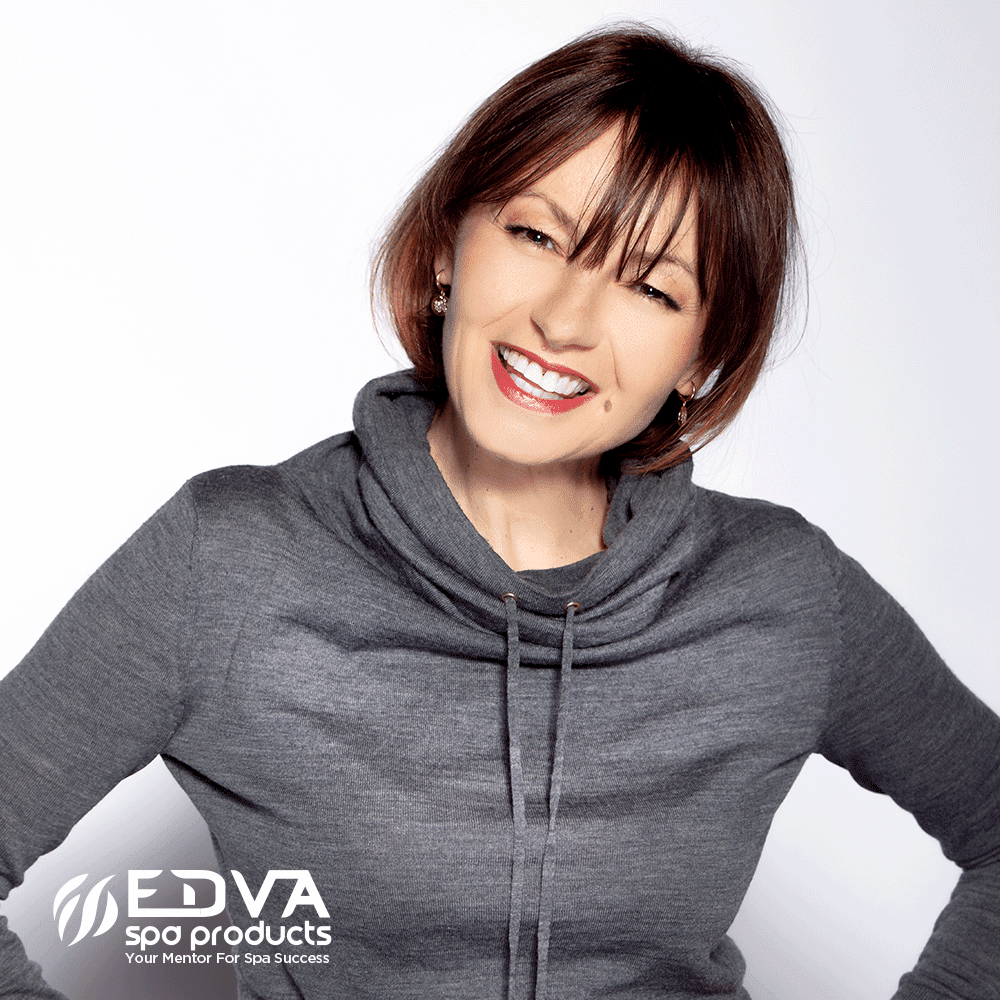 Dina Krinitski is the founder and president of EDVA Spa Products www.edvaproducts.com, a wholesale company which sells holistic skin care products and treatments to spas, medical spas and wellness centres. EDVA Spa Products offer their clients natural and very effective products from all over the world. Dina strongly believes professional mentorship is the key to experiencing success in SPA business. Her passion for mentor ship is what makes EDVA Spa Products standout from the rest of the crowd.

Growing up in the former Soviet Union, Dina observed women living very hard lives. She would often think about what she could do to help them emphasize their beauty. It was this curiosity which led her to study biology in the prestigious university of Moscow earning a master of science (MSc graduating at the top of her class shortly after while living and working in Israel Dina discovered her life purpose came together. It was there she met Dr. Albert LaPorte, a very accomplished french biologist and skin care expert who worked in the burn unit of the hospital. Ahead of his time Dr. Albert LaPorte was also the inverter of a holistic skin care creams to treat and heal terrible burns naturally. He encouraged Dina to come to France to work in his cosmetic clinic. It was there she learned the importance of living holistically and treating the ''core problems not the symptoms'' in all aspects of health and wellness. Dr. Albert LaPorte mentor ship motivated Dina to further her knowledge that much more in the areas of nutrition, alternative medicines such as Tibetan and Ayurveda and cosmetic surgery

This collection of professional experiences inspired Dina to create her own, unique holistic skin care system of which she implemented in Canada during the early 1990s while working at prestigious cosmetic surgery clinics in Toronto. Evidently propelling Dina to start her own company, EDVA Spa Products™ more than 20+ years ago
Professional mentorship is inherent to EDVA Spa Products™ philosophy to this day. Dina lectures on the power of holistic skin care techniques in North America and internationally. She is a sought after expert often speaking to large audiences in North America and abroad. Dina has also appeared on Global Television in Canada and is a guest on popular TV shows internationally in countries like Italy talking about the connection between skin care and diet.
When it comes to client care Dina is never satisfied with second best. She is searches the world for ways to create natural beauty through unique ingredients, recipes and products. EDVA Spa Products™ offers a range of products that feature the best organic and active ingredients from countries like, France, Israel, Italy, Korea and Japan. Her company offers super premium brands like Anna Lotan®, Blue Bhume Skin Solutions™ and natural alternatives to Botox, chemical peels, fillers and more.


Over the years Dina combined her professional experience, holistic and conventional knowledge into a unique mentorship system for spas to achieve success. Dina teaches her clients step by step on how
to implement this unique mentor ship system organically with customers through ensuring they have the best products to sell as well as the best knowledge and education to share.

To find out more about how Dina and EDVA Spa Products™ can help your spa achieve success go to www.edvaproducts.com or/ socialize with her Instagram.
EDVA 24 Karat Gold Facial and Golden Cordycepts
Imagine having youthful looking skin for your entire life! Having a 24 Karat Gold Treatment extracts the factors out of skin cells that induces aging – slowing down the aging process!
24 Karat Gold has been the secret to maintaining youthful looking skin for centuries. Historically, all over the world, gold was used to smooth out wrinkles, cooling the skin and protecting it from inflammation.
Specifically, during ancient times it has been proven that Cleopatra slept in a gold mask every night to maintain her youth. While in Rome and China, Gold bombs were used as natural medicine for treating a variety of skin problems. Today, science continues to recognize the stability that Gold treatments bring to skin. Gold action is closely connected with electrons present in the cells that are sensitive to electric charges. These ions become active under the energy of Gold, recreating broken cellular connections.
In addition, scientists indicate that Gold produces heat energy after massaging, releasing negative ions that remove free radicals within the skin cells. Ultimately, balancing the acidity of the body tissue fluid while penetrating deeply into the dermis.
Blue Bhumi – Golden Cordycdeots Lifting Anti-Aging Cream from EDVA Spa Products™– contains the best ingredients for anti-aging. It starts with wild Tibetan Cordyceps ​unique ingredient, is a root mushroom that grows in Tibet's Himalayan Mountains. They are actually taken orally in Asia for building immunity and delivering powerful anti-aging results. Blended with 24 Karat Gold which ​regenerates and rejuvenates the skin, delivering the essential energy skin needs to help maintain a youthful glow.