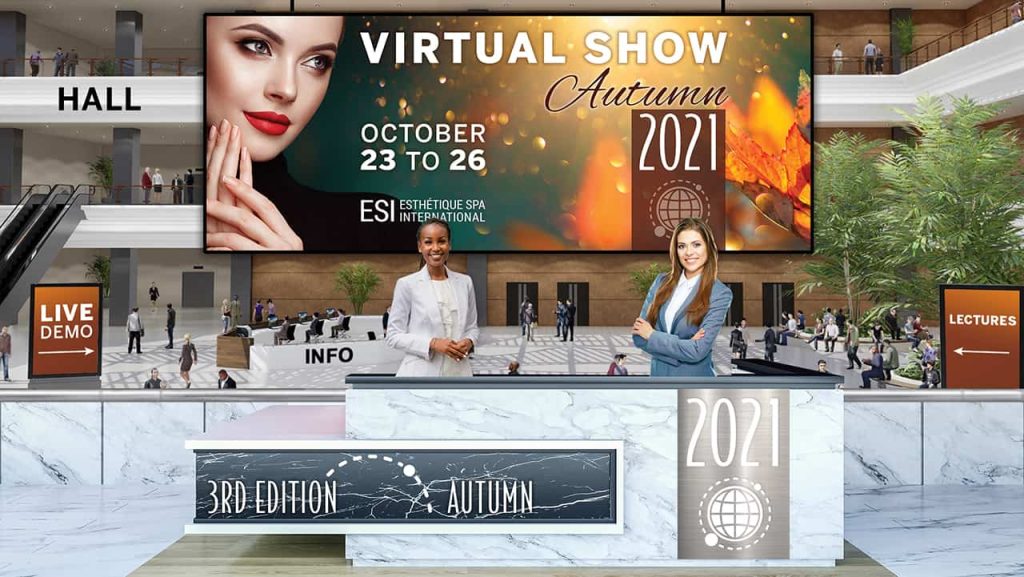 The LARGEST Virtual Event for Beauty Professionals
in North America!
Already have your ticket?
Join the thousands who've already attended the ESI Virtual Show Experience.
Our 3rd Virtual Show will bring you more LIVE demonstrations, more BRANDS to discover and opportunities to connect with other professionals and exhibitors!
Attend hundreds of live demonstrations and Q&A with exhibitors
Your ticket includes 30 days access to world class lectures!
DISCOVER HUNDREDS OF EXHIBITING BRANDS
With multiple lobbies and multiple exhibition halls, make sure you reserve enough time to discover the HUNDREDS of new brands at the 3rd edition of our ESI Virtual Show.
[soliloquy id='10161′ type='gutenberg']
LEARN MORE, DISCOVER MORE AND WIN!
During this autumn's ESI Virtual Show you can save on your continuing education courses and earn your CE credits! Participate in our scavenger hunt and get 10 chances to win $100!
Stay in the Forefront of Your Esthetics & Skin Care Profession
Earn Continuing Education (CE) Credits
3 EASY STEPS:
1. During the ESI Virtual Show, visit JUMOZY's booth
2. Choose from a large variety of online Esthetic CE courses
3. And Get a 20% discount on All courses
Look for this ESI ICON in all Exhibition Halls
We've hidden 30 ESI Icons amongst our Exhibitors Virtual booths.
See if you can find them all and you'll be entered into a draw with 10 chances to win a cash prize of $100
Purchase your Ticket ONLY $20 until October 18!
YOUR TICKET INCLUDES:
Entrance to our 3rd edition ESI Virtual Show – Autumn 2021
LIVE Demonstrations
HUNDREDS of lectures and access to ALL virtual lobbies during the 4-DAY LIVE Show
PLUS, an extra 30 days after to revisit exhibitors' booth and review all lectures