Join the beauty industry's first exclusive social media platform! It's made for beauty professionals like you to connect with, learn from and discuss with other professionals, educators, manufacturers, suppliers and more.

With our new community platform you can…
Create your own profile
Network with other industry professionals
Build relationships
Create a professional, personalized profile 
Add your skills
Connect with your peers
Join groups
Post updates to your timeline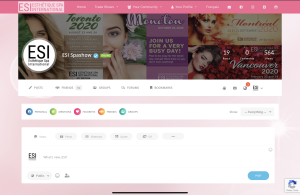 Industry Discussions
A place where you can join industry discussions, engage with your peers, and learn from the best!
Keep up to date on industry news. Read up on the latest topics and
 trends.
Let's build a community together!