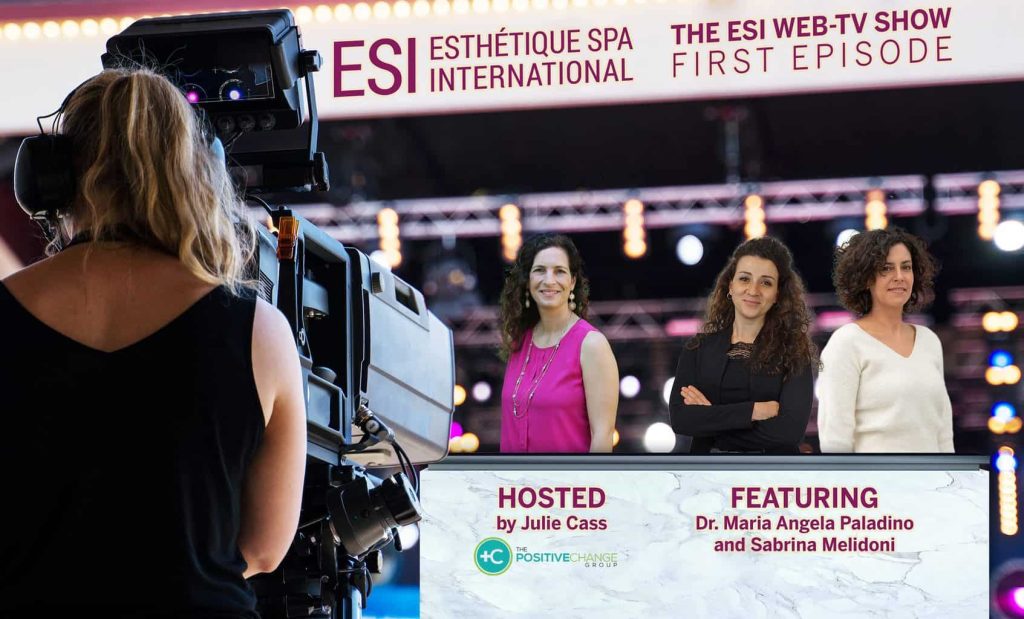 Our NEW ESI WEB-TV SHOW brings you the latest trends and demonstrations LIVE
For this first episode, join host Julie Cass with Dr. Maria Angela Paladino and Sabrina Melidoni from ICOONE, distributed in Canada by SPAVARO Inc.
Your Host
Julie Cass
Julie Cass is a transformational life, health and business coach and founder of The Positive Change Group.
Julie has coached hundreds of business owners, leaders and individuals over the years to help them tap into their full potential and create success.
As a previous resort and spa owner, Julie has over 20 years experience working in the health and wellness industry with firsthand experience of leading a motivated team and achieving year after year growth.
As CEO of The Positive Change Group, a wife and mom, Julie's passion is to help busy people thrive in all facets of life, and to understand the key to happiness is investing in the relationship they have with themselves.
Our featured guests
Dr. Maria Angela Paladino and Sabrina Melidoni
ICOONE
Dr. Maria Angela Paladino, Head of the Scientific Department i-Tech Industries
Sabrina Melidoni, Export Manager for the North American markets
icoone® is the innovative, non-invasive technology that grants effective facial and body treatments and offers at the same time a total relaxing experience. Thanks to the micro-stimulations,
it conditions the skin by improving the overall quality of the tissues, giving a general sensation of well-being along with aesthetic improvements, and allows also a simultaneous use of the two hands, by working on the body in a symmetrical way.
This unique technology offers a gentle yet efficient skin massage to treat different skin types, obtaining visible and long-lasting results.
EPISODE 1
ICOONE by Spavaro Inc.
Dr. Maria Angela Paladino and Sabrina Melidoni, i-Tech representatives, will exclusively introduce "LIVE" to the Canadian audience the novelty of ICOONE aesthetic devices, Roboderm technology and its patented micro-stimulations.
The live demonstration will illustrate the main features of the device, its applications, the structure of the treatments and will also show how the unique two handed massage technology works in both face and body in order to achieve evident aesthetic results along with a general sensation of relaxation and well-being.
REGISTER QUICKLY, there is a "LIMITED" number of access tickets available