URBAN POLLUTION ; A highly relevant problem of our everyday life
Pollution also affects the health of our skin. We live in an increasingly urbanized and polluted world. Our skin is constantly exposed to the pollutant agents: smog, exhaust gas emissions, smoke, heavy metals, fine dust particles and other toxins.
Pollutant agents settle on the skin, creating a film which hinders skin oxygenation, alters its protective barrier and increases the production of free radicals.
Pollution causes damaging effects to the skin and poses a serious problem, especially in big urban areas. According to the World Health Organization (WHO), globally more than 80 % of people living in urban areas are exposed to air that exceeds acceptable limits for pollution.
Exposure to these substances leads to visible skin ageing due to the generation of oxidative stress and induces several alterations, including a lower skin cell vitality, free radicals and reduced number of Langerhans cells of the immune system.
Such damage leads to premature aging and visible changes in the skin, including wrinkles and redness, dark spots and dullness.
As we age, our skin 's ability to protect itself against the environment is greatly reduced.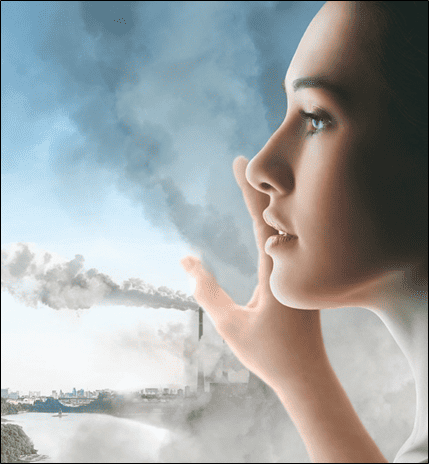 All skin types are affected by pollution and UV; however, fair skin is more susceptible and more prone to early skin ageing including collagen loss and sagging skin.
Fitzpatrick Skin types 3,4, and 5, are more likely to develop dark spots and dullness due to pollution and UV exposure stimulating melanin in their skin.
Oily skins are also in need of protection as large pores allow more pollution to enter into the skin.
The good news is that we can protect the skin from pollution damage by using skin care that includes active ingredients scientifically proven to protect against pollution damage.
Diego dalla Palma (*) skincare combines key anti pollution ingredients with sunscreens and anti oxidants to shield the skin against such damage.
One such ingredient is Pollushield ™ found in Urban Life by Diego dalla Palma. In clinical trials volunteers using the ingredient showed lower levels of heavy metals embedded in the skin and a greater antioxidative capacity.
Pollushield™ a functional ingredient helped achieve an improvement in the skin complexion, reducing the appearance of dullness and spots. This anti-pollution and anti-free radicals functional ingredient assists in counteracting the negative consequences of pollution on the skin as it provides a barrier between the skin and pollutants and boosts its antioxidative defense.
It offers two complementary effects: binding of toxic metals by a polymer with metal chelating properties to prevent their interaction with the skin as well as a strong antioxidative action by a potent free radical scavenger to avoid oxidative damage within the skin.
Another cosmetic ingredient, the "Hydrafilm system" found in Urban Life by Diego dalla Palma, is a polysaccharide that helps protect the skin against pollution. It creates a film over the skin "like a second skin effect"
Thanks to its matrix-forming property, it creates a barrier to shield against the 3 types of pollution stresses:
Atmospheric (carbon particles, particulate matter and heavy metals)
UV exposure
Domestic (chemicals,dusts,etc.)
and so limit the skin extra and intracellular induced damages (oxidative stress, inflammation, cellular and mitochondrial toxicity, etc)
As skincare professionals, it's essential that we educate our clients on the importance of using a daily moisturizer with anti pollution ingredients, anti oxidants and UV sun screens to protect our skin and keep it healthy and youthful.
Here are two skincare treatments offered by Diego dalla Palma:
URBAN LIFE SMOOTHING ANTI-POLLUTION MASK : an innovative smoothing serum mask. Absorbs toxins and traces of impurities present on the surface of the face. Creates a comfortable hydrating and protective film on the face when removed, leaving skin looking instantly refreshed and invigorated. Instant action: instantly smoother, hydrated and more radiant skin.
URBAN LIFE DAILY PROTECTIVE FLUID: This product protects against all types of pollution. It ensures strong, hydrated, and younger-looking skin that is free to breathe. Contains Pollushield™, an invisible protective shield that prevents smog, smoke, fine dust and other pollutants from adhering to the skin and facilitates their removal during cleansing. The smoothing texture leaves the skin instantly more beautiful. Combats the action of free radicals and makes make-up last longer when sprayed on the face after moisturiser or make-up.
(*) Diego Dalla Palma Resurface is only available at exclusive professional beauty centers.
Cristina Ramirez – CEO INTERCOSMETICS
Medical Aesthetician | Cidesco Beauty Therapist
Educational Director For Diego Dalla Palma Professional Skin Care