The Warm Buddy Company was established in 1995. The first products sold were heat therapy wraps designed to be the ultimate in pain and stress relief. We are celebrating 25 years of helping people feel better. Warm Buddy products are made in Canada.
As time went by, designer fabrics and aromatherapy were added to enhance products. Warm Buddy products are sold and used in many high-end spas.
The addition of Warm Buddies (ultra-soft and cozy warm-up plush animals) followed shortly after, and have been sold to children of all ages. Warm Buddies are excellent for reducing stress, providing comfort and helping with sleep.
Warm Buddy Company has become known for its high quality and superior heat wraps. They are ultra-soft, long heat holding and have a proven 25-year safety record. All Warm Buddy products have undergone extensive testing and are recognized and sold as a Class 1 Medical Device.
Most spas incorporate our products in their treatments for the heat therapy and aromatherapy.
Create Ambience and Comfort During Each Spa Service by Using Our Products
Clients will be enveloped with warmth and luxury. Enhanced spa experience will result in more repeat customers and increase in product sales! Clients can take the spa experience home.
We recommend using a towel or a tissue with our products when the product comes into contact with skin. This will promote a clean environment. Our products can also be placed in a spa towel warming cabinet though the microwave provides more intense heat.
Here are some ideas on how to incorporate Warm Buddy Products into your Spa Services:
1. Spa robes: Offer clients one of our luxurious, quick drying plush robes to wear.
2. Essential oils/mists: Use our oils in a diffuser in the room or spritz our aromatherapy anti-stress mist in the air or directly on your client covering their eyes. Sprinkle a few drops of essential oil on a Warm Buddy product after heating – it won't stain the fabric.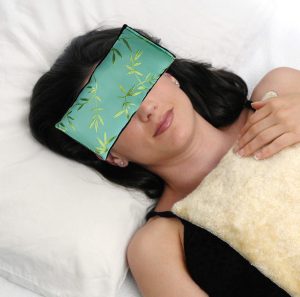 3. Eye pillows: Place an eye pillow on your client – the weight and blackout effect create instant relaxation and enhances the spa experience.
4. Spa warming and body wraps: During facials and massage, warm the bed with our large warming blanket or place our weighted body wrap on your client for added continuous warmth.
5. Shoulder wraps/mitts/booties: Heated shoulder wraps relax your client while warming mitts and booties are perfect for manicures and pedicures as they aid in the penetration of oils and can be used with paraffin wax treatment. Place hands and feet in plastic wrap prior to putting on the mitts and booties.
6. Home use: We also encourage spa therapists to highlight the benefits of these natural therapy products when used at home.

Warm Buddy Benefits
Safe & Easy to Use – ready and warm after 2-3 minutes in the microwave. You also have the option to heat in the oven wrapped in foil at 250 °F for 20 to 30 minutes, or warm in towel cabinets. To freeze, just place in a plastic bag and put in the freezer for a couple of hours.
Penetrating, superior, long-lasting, natural moist heat/cold therapy for many common conditions such as:
maternity labour pain
cold hands and feet
eye strain
indigestion and stomach pain
menopausal symptoms
chronic illness
maternity labour pain
cold hands and feet
eye strain
indigestion and stomach pain
menopausal symptoms
chronic illness
Added benefit of aromatherapy with the infusion of essential oils and herbs – a soothing scent
Products are carefully weighted to provide supplementary therapeutic acupressure and long heat holding
Washable, durable, quality fabrics that should last for many years
Visit www.warmbuddy.com to view our full line of products.