Discover a new generation of natural mineral sunscreens and hypoallergenic skin care that protect, nourish, and regenerate fragilized skin exposed to harmful environmental factors. THOYA Laboratoire formulations combine the latest scientific advances with nature's powerful restorative ingredients.
All formulations are designed with potent 100% natural-origin ingredients that have been scientifically and clinically studied for their effectiveness, properties, and safety. Every ingredient is thoughtfully researched and all controversial, harmful, or toxic substances are excluded from our products. Our products are clinically tested under dermatological control, fragrance free, hypoallergenic, and not irritant.
THOYA Laboratoire skin care is available in clinics and spas in Canada.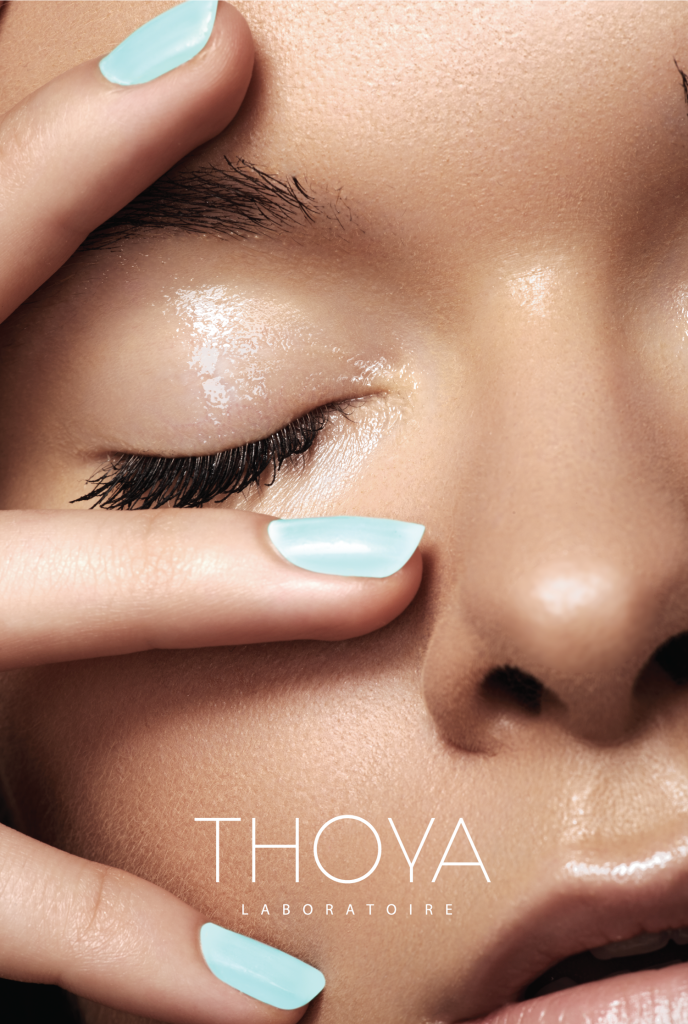 About our Founder
Preoccupied by both the harmful environmental factors and the large amount of chemicals in everyday skincare, Elizabeth Hartinger, Ph.D., M.Sc.A, B. Ing. founded THOYA Laboratoire as a commitment to develop a new generation of hypoallergenic professional skin care with highly effective, carefully selected, safe, all natural origin, and organic ingredients.
​
Elizabeth is committed to cutting-edge skin research and has acquired over the years extensive experience in dermatological technologies. Her postdoctoral studies were conducted at Harvard University and Massachusetts General Hospital in Boston, USA, where she worked on a novel laser technology in the field of dermatology and skin cancer. Elizabeth completed a doctoral and a master degree in biomedical engineering at Montreal University/Ecole Polytechnique in Montreal, Canada. While pursuing graduate studies, she developed an innovative technology for skin cancer detection and acquired comprehensive knowledge of the skin and cutaneous pathologies.
At THOYA Laboratoire, researchers are committed to work on next-generation products designed to protect, maintain and optimize the health of the skin.
Standards and Eco-Values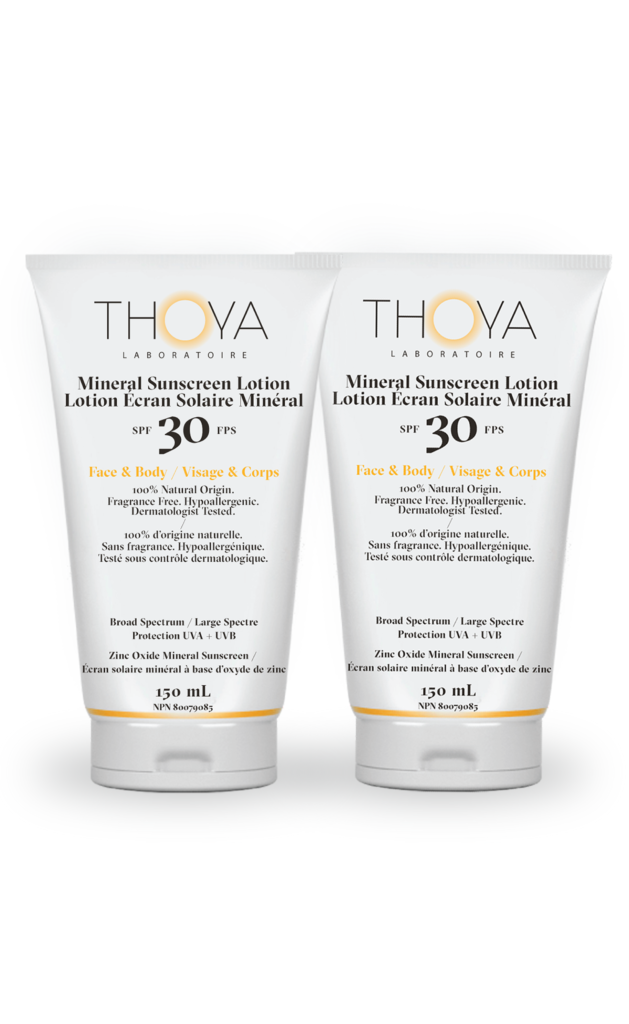 DERMATOLOGIST AND CLINICALLY TESTED
All products are all clinically tested, dermatologist tested, fragrance free, hypoallergenic, and not irritant.
HEALTH CANADA APPROVED
All sunscreens are rigorously tested by independent laboratories according to strict regulatory standards and are all approved by Health Canada.
CLEAN 100% NATURAL-ORIGIN INGREDIENTS
THOYA Laboratoire products are formulated with safe and highly effective natural-origin, and certified organic ingredients.
All skin care is also essential-oil free, non-nano, fragrance free, sodium-lauryl-sulfate free, titanium-dioxide free, phthalate free, mineral-oil free, aluminum free, silicone free, and paraben free.
NOT ANIMAL TESTED
All formulations are vegan and never tested on animals.
SUSTAINABLE PRACTICES
THOYA Laboratoire skin care is made in Canada and implements sustainable practices. All packaging is made of recyclable material and we always prioritize local and high quality ingredients. All formulations are locally developed, tested, and manufactured to minimize our ecological footprint.
THOYA Laboratoire all Natural Mineral Sunscreens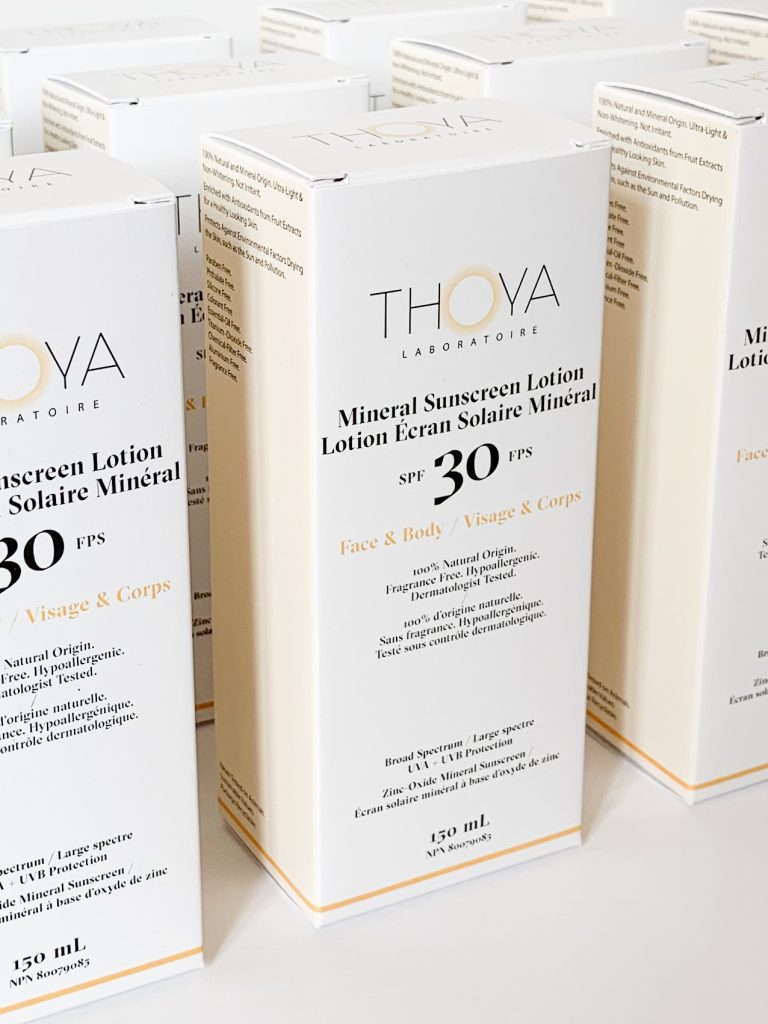 THOYA Laboratoire uses only non-nano zinc-oxide mineral UV filter (no titanium dioxide, no avobenzone, no oxybenzone, and no chemical filters) in its sunscreens. Zinc oxide remains a safe and naturally-derived mineral filter approved by Health Canada that provides safe and highly effective broad-spectrum sun protection against both UVA and UVB rays.
Mineral filters do not penetrate the skin barriers unlike many chemical filters which are systemically absorbed.
Mineral sunscreens also have a much lower rate of photoallergic reactions than chemical filters and zinc oxide has even been shown to reduce cutaneous irritation and redness. Zinc-oxide mineral sunscreen is recommended for all skin types including the most sensitive. A must after a dermo-aesthetic treatment including laser, peel, facial, etc.
Our sunscreens are enriched with antioxidants from fruit extracts for a healthy looking skin. They moisturize and protect against environmental factors drying the skin, such as the sun and pollution. THOYA Laboratoire sunscreens protects and smooths all skin types while preventing premature signs of aging resulting from everyday sun exposure. They spread easily leaving no residue. Perfect and safe for all the family.
After-Sun | Post-Procedure Comforting Gel
THOYA Laboratoire new oil-gel formula melts into the skin for an intense sensation of comfort. High in essential fatty acid, vitamins, and enriched with betulin to replenish, strengthen, and nourish the skin's moisture barrier after sun exposure or after a dermo-aesthetic treatment including laser, peel, hair removal.
This comforting gel promotes smoothness and alleviates itching, chapping, cracking and roughness of dry irritated skin after sun exposure or a dermo-aesthetic procedure.
Betulin (plant-origin triterpene) was clinically proven to strengthen the skin moisture barrier, reduce irritation, and minimize the visible signs of aging for a healthy looking skin.
The formula is: 100% Natural origin. Vegan formula. Hypoallergenic. Dermatologist tested. Fragrance free. Preservative free. Paraben free. Phthalate free. Alcohol free. Essential-oil free. Silicone free.
Hypoallergenic Skin Care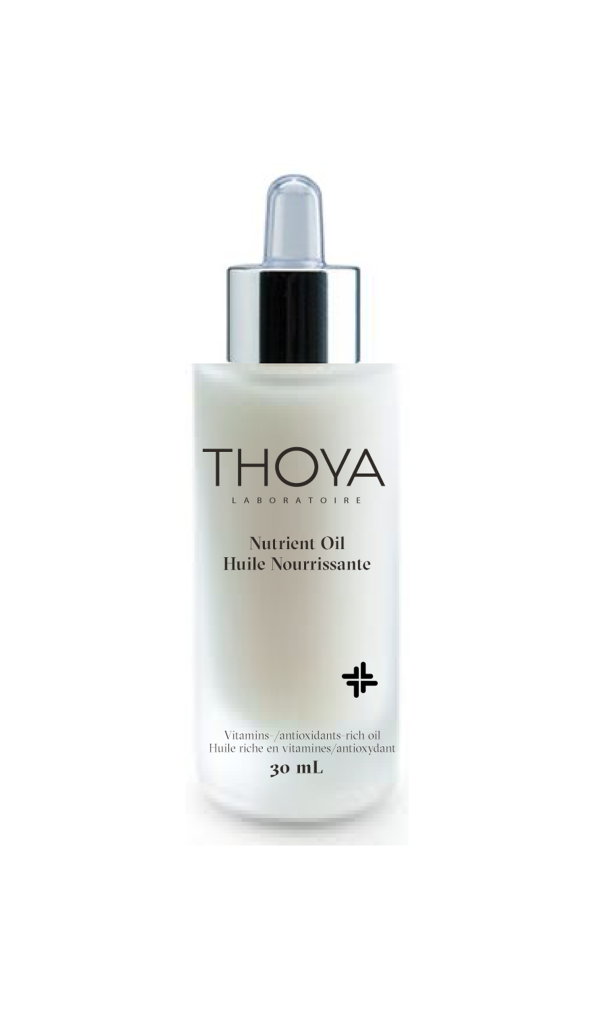 For the management of intolerant and fragilized skin exposed to today's harmful environmental factors, THOYA Laboratoire has developed a full line of innovative hypoallergenic, fragrance free, and all natural formulations to nourish, hydrate, and repair the moisture skin barrier of compromised skin types. Discover the full range on http://www.thoya.ca
For more information or orders contact us at : [email protected]
Visit us at : http://www.thoya.ca
Join us on :
FACEBOOK : @Thoyalab
INTAGRAM : @Thoyalab
THOYA Laboratoire – Sciencederm Inc.
4002 Chemin du Bois-Franc
Saint-Laurent, QC
H4S 1A7 Canada