Vancouver Exhibitor Classes
MORE SPEAKERS WILL BE ADDED SOON!
Jaime Ashmore
CANDELA INC.
Jaime Ashmore is the founder and CEO of Body Bar Laser Clinic and has 2 locations; Coquitlam and White Rock, BC, as well as an accredited Laser Technician School; Body Bar Laser Academy.
Jaime has been in the aesthetic industry for 10 years and built her business utilizing the Candela GentleMax Pro.
Jaime regularly consults with medical professionals and businesses on how to set up a full service medical aesthetic practice/business.
Classes
How to Build a Successful MedSpa with the Various Treatments and Revenue Streams of the GentleMax Pro
Jaime Ashmore, owner of Body Bar Laser Clinics, shares her personal successes with her 3 GentleMax Pro devices.
She discusses how you can leverage the proven performance and versatility of this dual wavelength system to address the ongoing demand for hair removal treatment while also expanding your range of skin treatments.
Lancho Cephivenus
CANDELA INC.
Lancho Cephivenus founded Chobee Marketing MD to redefine the medical aesthetic marketing process in Canada.
Within a short 4 year period of time, Chobee has successfully assisting generated Over 100 Million Dollars for all of its clients.
Classes
Light & Bright: A New Treatment to Illuminate Your MedSpa
The Nordlys system's treatment capabilities on a range of indications including vascular and pigmented lesions, photorejuvenation, scars and striae and skin textual improvements. Nordlys includes 3 foundational technologies: Ellipse IPL, Frax 1550, and Nd:Yag 1064.
The benefits of narrowband IPL with dual filters and sub-millisecond pulses will be examined and Lancho  will discuss how to build a successful MedSpa with the various treatments and revenue streams of the Nordlys as we introduce the new Light & Bright treatment using the patented Ellipse IPL and Frax 1550 technologies!
Andrew Huang, MD
CANDELA INC.
A cosmetic physician with ten years of clinical experience in the Greater China market. Holds a unique perspective on cosmetic laser treatments and has performed over 5,000 cases with picosecond lasers and pulsed dye laser.
Now providing in-depth training and consulting for cosmetic clinics.
Classes
Skin Revitalization for Asian Skin
Dr. Andrew Huang, a cosmetic physician from the Greater China market, will discusses his clinical experience and treatment options with Candela's PicoWay devices, especially on colored skin.
Nathalie Forget ND.A.
DAVINCIA INC.
The story behind dermonaturopath Nathalie Forget, ND.A. stands out.
As a young adult suffering from acne, she tried multiple products and treatments. They proved to be useless or worsened her skin condition, leaving burns and post-traumatic dark spots.
Nathalie then embarks on a quest to find suitable solutions to those, like her, in search of a healthy, natural and long-lasting solution, free of any side effects. Changing the course of her academic career, she starts a degree in naturopathy and esthetics, leading her to work with renowned dermatologists and ultimately manage a network of 11 medico-esthetic clinics. With all this experience, she starts to research and experiment to create a unique and living treatment that acts on the skin microbiome.
Seven years of research and countless test phases for personalized formulas gave rise to the Biocompatible Care®. Approved by Health Canada and protected by a feminine Quebec patent, the Biocompatible Care® acts simultaneously on 12 skin conditions, a first in the history of esthetics. In 2015, she opens her own laboratory to control the quality of the formula. This is how Nathalie came to invent the Biocompatible Care®… and started a true revolution.
Today, her line is distributed across Canada. She still conducts product research and development to offer solutions to those suffering from scalp or skin conditions. She is also a sought-after speaker, writer, instructor and coach.
Classes
Your skin is alive! Treat it to a living treatment.
Davincia presents to you a unique and innovative type of skincare. A new way to communicate with your skin, with results that speak for themselves.
The Biocompatible Care is a face mask made from bio-organisms containing probiotics capable of tackling 12 skin issues within 1 hour. And best of all, it respects the biological integrity of the skin. During this conference, you'll discover the culprit behind most skin issues.
Dermonaturopath Nathalie Forget, ND.A. developed this feminine Canadian patent. The incredible results of this 100% natural treatment go far beyond those obtained with tech devices.
Ideal for all skin types and phototypes, the results speak for themselves!
You think you've tried it all?
Discover how the living Biocompatible Care achieves life-changing results, one face at a time.
Dina Krinitski
EDVA SPA PRODUCTS
Dina Krinitski holds degree in biology and graduated from the University of Moscow. She is a certified cosmetologist with practical experience in holistic field. She learned different alternative medicine like Tibetan, Ayurvedic and worked in cosmetic surgery as a skin care consultant.
She is a founder and president of EDVA Spa Products ( Toronto, Canada ) – North American exclusive importer and distributor of the Anna Lotan LTD – well-known European manufacturer of natural cosmetic products.
Classes
24 Karat Pure Gold Treatment
Pure gold has been used for centuries as the secret to youthful looking skin. In ancient times gold was used to smooth out wrinkles to cool the skin and to protect it from inflammation. Historians have proven that Cleopatra slept in a gold mask every night to maintain precious skin youth. In ancient Rome, gold balms were used for the treatment of a variety of skin problems.
Gold was also regarded as the key to youth in ancient Chinese medicine. Gold can easily be massaged into the skin lending the face a glowing and radiating complexion. Gold frees the skin from impurities, and increases the proportion of oxygen in the skin, eliminating tiredness.
The treatment rejuvenates the skin, removes wrinkles, banishes blemishes, fades age spots and leaves skin luminous.
Tanya Palladina
Footlogix, Where Medi meets Pedi®
FOOTLOGIX
Tanya has been involved in the esthetics industry for many years. As a graduate of George Brown's Esthetics Program she joined the College, initially in an administrative role and later as an instructor in the esthetics program and then the medical esthetics program. Subsequently, she ran her own Esthetics business, which included a number of speaking engagements throughout North America as a keynote speaker on infection control as it relates to the Spa Industry.
She has also represented a number of industry related products on the Shopping Channel over the last number of years. Her current position as VP of Sales at Footlogix, a world leader in a broad range of foot care products, has expanded her experience and expertise globally.
Classes
A Step Ahead…Making the Most of Your Foot Care Service
Are you maximizing your profits from each foot care service? Learn what you need to know about a diverse and changing clientele in order to set yourself and your business apart from others. Listen to Tanya as she explains how Footlogix can boost the success of your business.
Find out why so many prestigious salons, spas and clinics are making the switch to Footlogix and see how to reach your potential by educating yourself and becoming the best technician you can be.
Iwona Kozak
HOLISTIC BRANDS CORPORATION
Ms. Kozak is the Co-Founder and President of Holistic Brands Corporation, established in BC in 2015. She has 15 years of experience as an of international companies. Since 2003 iwona has headed up a private entity that opened the first corporate-oriented yoga studio in Vancouver, taught holistic lifestyle and diet, and delivered workshops in Canada, Poland, and Costa Rica.
Since 2008 she has been publishing a monthly column on a holistic lifestyle, yoga, diet for Zwierciadlo (www.zwierciadlo.pl), the largest women magazine in Poland.
She is the founder of an on-line publication www.mojatransaformacja.net. Iwona has had a life-long interest in understanding our interface with nature, and an increasing passion for holistically healthy living.
As a result she introduced two European brands to Canada and USA, Elaspa and Elapromed, which utilize advanced non-invasive technology paired with organic and botanical ingredients.
Classes
Why Use Organic Skincare
The increased popularity of the organic trend is a direct consequence of the rising global awareness of the negative health and environmental impacts of conventional, chemical-loaded products.
This presentation will cover the most important aspects of safety, regulations and the difference between organic, natural and synthetic ingredients.
The following topics will be covered during this presentation:
–              What is organic skincare?
–              Key synthetic ingredients
–              The difference between synthetic, natural and organic skincare
–              Certifications
–              Key synthetic ingredients and their effect on health
Key features of Elaspa skincare line including ingredients, technology, packaging and eco-conscious values.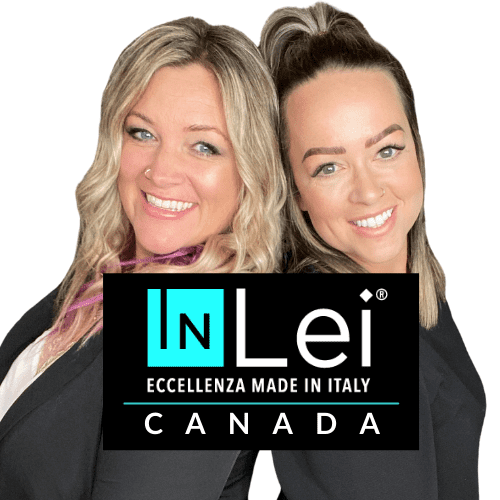 Ashley Williams & Nicole Bembridge
INLEI CANADA
We are two passionate businesswomen located on beautiful Vancouver Island in Nanaimo BC. Empowering people to feel beautiful and confident is an amazing, rewarding experience. We have been working hard this past year to share InLei® with beauty professionals across Canada!
Nicole: With over 10 years of experience as a lash artist and beauty teacher, I want to share my passion with other people who only want the best products and results for their clients. I am the owner of Eye Kandy Studios in Nanaimo and Co-owner of Van Isle Beauty Co and InLei® Canada!
Ashley: As a brow artist with over 6 years of experience, I believe that consistent practice and ongoing education is the key to setting yourself apart in this industry. I am the Co-owner of Byoode Bar in Airdrie Alberta, and work alongside Nicole as a Co-owner of Van Isle Beauty Co and InLei® Canada!
Classes
InLei® Lash Filler
InLei Lash Filler is a highly effective system designed to lift, curl, and drastically improve the health and condition of natural lashes. Made in Italy, Lash Filler is clinically proven to thicken the diameter of eyelash hair by an average of 24% after just 3 sessions! All products comply with European standards and are Health Canada registered. Your clients will render more beautiful natural eyelashes with this simple, safe, and fast treatment.
This presentation will go into detail about how to perform key parts of the InLei Lash Filler treatment, offer insight on why Filler 3 is considered a "magic potion" in the lash lift world, and why you should start using InLei products today.
InLei® Brow Bomber
InLei Brow Bomber is a revolutionary professional treatment designed exclusively for the eyebrows and intended to make the hair of the eyebrow obedient, soft, silky, and styled. This innovated system influences hair growth by improving hair structure and nourishes damaged, thin, and weak eyebrows during the treatment without the need for plastic wrap because of how dense the product is.
All products comply with European standards and are Health Canada registered. This treatment will leave clients with full, healthy, and beautiful eyebrows.
This presentation will go into detail about how to perform key parts of the InLei Brow Bomber treatment, will discuss why Brow Bomber's skin irritation level of 2.7 out of 10 is so important for your clients, and why you should start using InLei products today.
Vicki Malo
NORTH AMERICAN SCHOOL OF PODOLOGY
Vicki's passion is bringing foot care education to technicians and specialists around the globe.  She is a noteworthy leader in pedicure education; teaching advanced pedicure classes and lecturing at industry events for over 15 years while heading up the North American School of Podology.
Vicki has worked in the professional beauty industry as a highly trained CIDESCO Diplomat, Master Pedicurist, Massage Therapist, Licensed Beautician, Educator, Professional Speaker, Mentor and Consultant for over 30 years.
Vicki's has an MBA in Business Management, BSc. in Podology, Advanced Skin Care, Advanced Foot Care, Infection Control and business modalities in the salon industry.  Her business experience both as President of the North American School of Podology and as a former owner of both a clinical salon and a day spa brings a wealth of knowledge to her classes and seminars. Vicki's mission is to bring leading-edge information to all of her classes helping technicians elevate their pedicures through education.
Classes
Kick Up Your Pedicures
Pedicures are one of the most requested spa services today.  With the ever-changing needs and demands, are you keeping up with all of the new technologies, products and techniques?  You can take your pedicure business to the next level and exponentially increase your revenue by adding new "à la carte" services and time-saving techniques to your current offerings!
This intensive seminar will cover toenail bracing, toenail reconstruction and the latest technology in electric files.  It will also cover the specialty pedicure implements and bits required to go beyond the basics and perfect your pedicure services.  Differentiate your pedicure business, streamline your services and increase your revenue all at the same time.
Learn everything you need to know about elevating your service in this one-hour class.
Aleks Vranicic
VITELLE DERMATOLOGY LAB
Aleks Vranicic is a Product Development principal, Master Trainer and Vice President of Sales and Technical Training at Vitelle Labs. Originally from Croatia, he is a third generation Licensed Esthetician who holds a B.A. in Business from PLNU in San Diego, C.A.
Aleks started his skin care career 16+ years ago working with his Mother at her Spa in Los Altos, CA where she introduced private label products to her clients. Since then he's helped hundreds of clients, who like his mother, have their own vision for their company.
In his role at Vitelle Aleks has traveled the world sharing his experience and knowledge, mentoring and training skin care professionals.
Classes
Private Label - Find Out What You Don't Know!
Misconceptions about private label may be holding you back from making one of your best business decisions! You probably have observed a growing trend towards online skincare purchasing by your clients, it's frustrating to have your valuable retail product revenue drift away.
Attend our presentation and find out how much more impressive private label formulations and packaging is, from what you may have perceived.